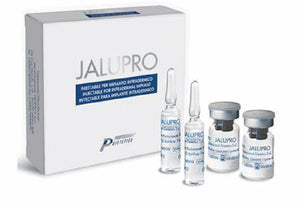 Jalupro is a new injectable treatment containing a patented formula of amino acids and Hyaluronic acid.
Jalupro is used to regenerate and stimulate the fibroblasts in the skin to produce a complete mix of collagen and elastin. This is a great option for your clients who wish to maintain a more natural look, or those who do not want or need Botulinum Toxin or Dermal Fillers. 
Jalupro is an extremely versatile product and can be used on the face, neck, décolletage, hands, arms, inner thighs, knees and the under-eye area.
 This is an amazing add on to your treatment menu, enabling your client to not have to go anywhere else, Jalupro is a great combination with anti-wrinkle injections.
Jalupro can be used all over the face & body, most commonly used around mouth and under eyes.
Jalupro benefits:
Restores radiance and firmness of dull skin
Prevents and reduces sagging skin (face and body)
Reduces fine lines and signs of expression
Prevents Elastosis
Improves the appearance of scars, including acne, keloid and red stretch marks
This course which includes all of the above and ongoing support system for however long you require within 'The aesthetics society' which offers lots of further training within your subscription 
DO NOT MISS OUT!!
Deposit must be paid to secure your place.
Places will not be held until deposit has been paid, deposits and or full balance can be paid via the website.
All deposits are non-refundable.
Once deposit is paid you will receive all of your course information, home theory, T&C's and your invoice/receipt which is for your records and our own. The final balance of your course does not need to be paid until the first day of your training.
Payment plans are available from Go Cardless. Once you have paid your deposit online you can choose a direct debit plan, spreading the remainder of your course payments over two months. Click on the link below to set up your payment plan:
Three-month payment plan - 3 x £50.00

You can potentially earn the cost of this course back in your first month of trading.
We run a number of courses per month, more dates will be added when dates sell out!
Once spaces are gone, we will not be adding any more at this price and no spaces are secure without deposit.
Location of training: Visage Training Academy, 562 Prescot Road, Old Swan, Liverpool L13 3DE (facing the Post Office near Tesco)
Trainer: Lauren Ashley owner of Visage Aesthetics.